7 Ways to Use BBQ Sauce
March 8, 2016
You love basting with BBQ sauce. But there is no reason that you should reserve BBQ sauce just for the grill! Here are 7 creative ways that you can use BBQ sauce in the kitchen every day.
---
Mix with Mayo for a Tasty Condiment
You can turn any basic mayo into a gourmet delicacy by adding seasonings. A dollop of BBQ sauce tastes great in mayo. You can also try experimenting with curry powder, horseradish, jalapeños, garlic, or minced herbs.
---
Use as a Dipping Sauce for French Fries
Take your French fries up a notch by eating them with BBQ sauce instead of ketchup. Even better, make sweet potato fries. The sweetness tastes particularly good with a smoky BBQ sauce. Get the recipe here by Paleo Running Momma.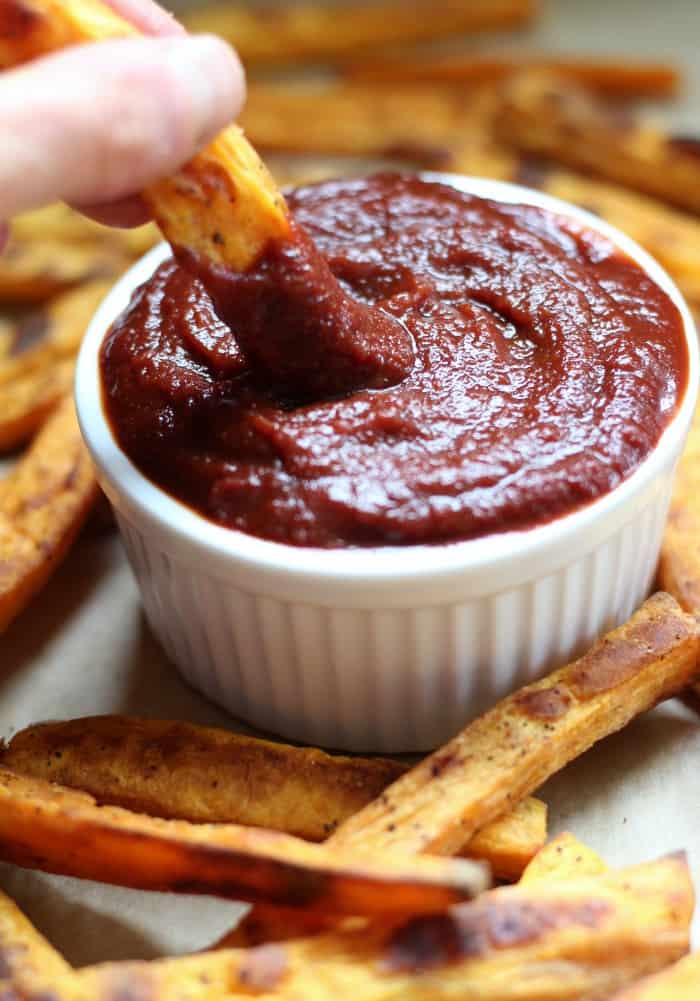 ---
Slather on a Grilled Cheese Sandwich
It seems unexpected to put BBQ sauce on a grilled cheese, but it adds the perfect kick to an otherwise simple bite. While you are at it, put some steamed Swiss chard in the sandwich too for some iron, calcium, and other leafy green nutrients.
---
Use Instead of Tomato Sauce on Pizza
Slather a thin layer of BBQ sauce on pizza dough and then top with your favorite cheese, Beyond Meat chicken-less strips, green bell peppers, and corn (or whatever combination you fancy). Check out this recipe for BBQ pizza!
---
Put into Your Rice and Beans
Tired of the same rice and beans? Add a spoonful of BBQ sauce right before it is finished cooking. Its smoky flavor adds the perfect note of sweetness and flavor! Check out the recipe here by Just a Pinch.
---
BBQ Nachos
Get some extra flavor into your nacho plate with a BBQ kick. Throw some tortilla chips, tomatoes, fresh parsley, jalapeños, and cheese into an oven-safe dish for a crunchy dish that's tailored exactly to your liking. Get the recipe here by Two City Vegans!
---
Glaze Fruit
Sweet and smoky flavors go really well together, so don't be afraid to try putting BBQ sauce on fruits like peaches or pineapple. You can cook the glazed fruit on the grill (leave the skins on and keep careful watch because it cooks quickly!). Or, if you don't want to fire up the grill, roast them in the over at 400 degrees for about 10-15 minutes (until soft). Serve on top of a bed of greens or enjoy on their own. Click here for the recipe by Delish for inspiration!
JOIN THE MOVEMENT
To receive exclusive Beyond Meat offers, updates and more.
By clicking 'Sign Up', you consent to Beyond Meat using your email address in accordance with its Privacy Policy. You can opt-out at any time.