The Truth about Plant-Based Meats: Unpacking the Health Realities and Navigating the Nuances of Ultra-Processed Foods
November 17, 2023
The Truth about Plant-Based Meats: Unpacking the Health Realities and Navigating the Nuances of Ultra-Processed Foods.
Not all processed foods are created equal. A recent study backed by the World Health Organization reports that processed animal-based products are linked to an increased risk of multimorbidity (the coexistence of multiple, long-term health conditions.) Plant-based alternatives, however, are not.
Researchers looked at the dietary habits of 266K participants across seven different countries for 11 years to monitor who developed cancer and cardiometabolic diseases such as diabetes and heart disease.
The study ultimately found that sugar-sweetened beverages and animal products contributed to an increased risk of developing those life-threatening conditions. Meanwhile, plant-based alternatives, breads, and cereals showed no association with risk.
This is a groundbreaking discovery, as processed and ultra-processed foods have been broadly categorized as being "bad for your health" over the last decade. When in reality, some of the most nutritious foods, like nut butters, protein powder, infant formula, hummus, salsa, bread, high-fiber cereals, whole grain pasta, and frozen vegetables, are all processed.
We now understand that UPFs are harmful to our health when they include high levels of saturated fat, sodium, and added sugars or when nutritional benefits, e.g., protein, fiber, vitamins, and minerals, are stripped away. We're proud to say this is not the case for Beyond Meat — our products are low in saturated fat, protein-packed, and have 0mgs of cholesterol.
Oversimplifying this category does not acknowledge the nutritional spectrum between processed and ultra-processed foods. The recent study underscores that it might be time for us to reframe our thinking to help empower consumers to make conscious choices about their health.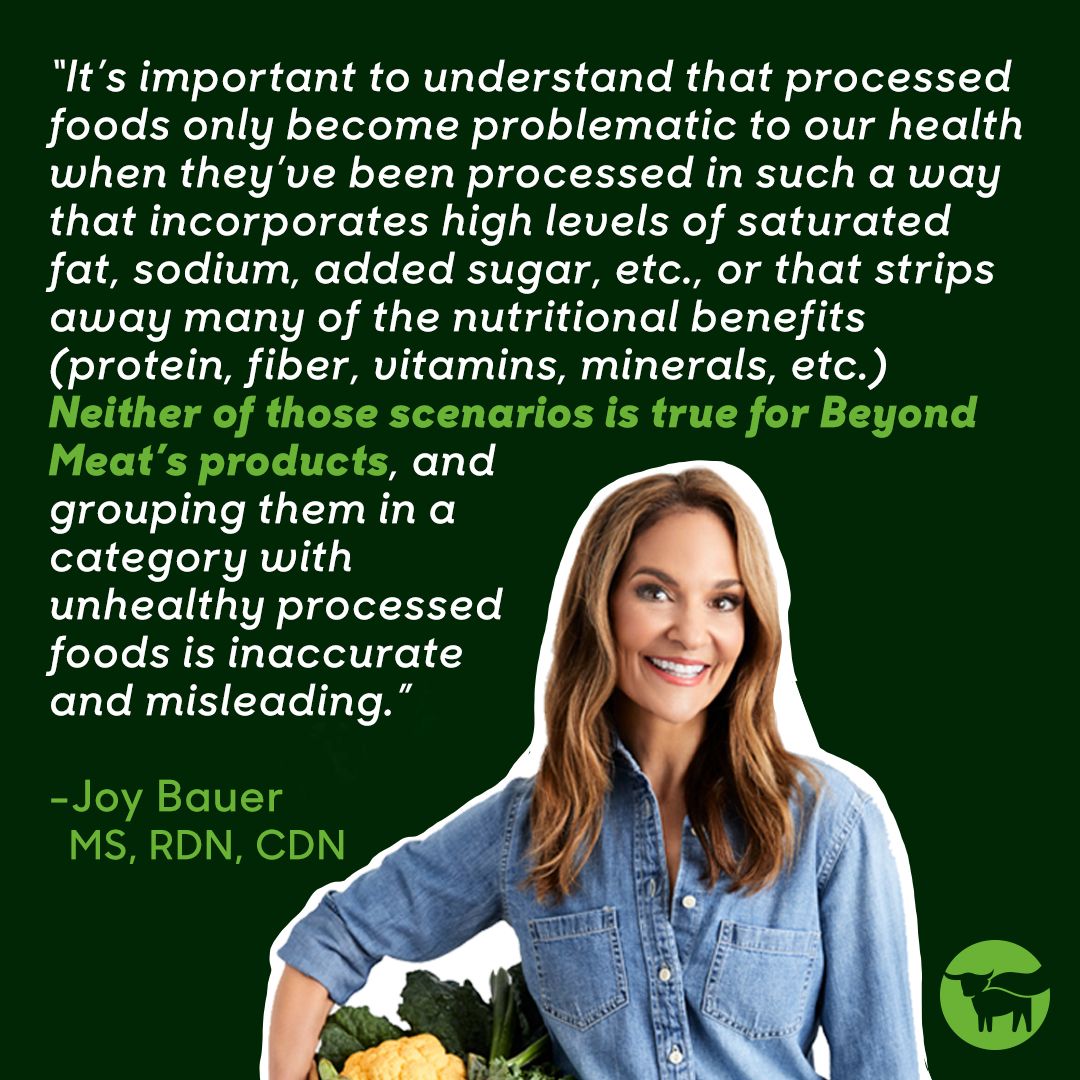 Looking for more truths about processed foods? Click here to read a POV from Joy Bauer, MS, RDN, CDN.
JOIN THE MOVEMENT
To receive exclusive Beyond Meat offers, updates and more.
By clicking 'Sign Up', you consent to Beyond Meat using your email address in accordance with its Privacy Policy. You can opt-out at any time.